Khevsureti Shatili

Shatili is medieval (XIV century) highland village located in the deep Arghuni gorge at the height of 1400 m in Khevsureti province. It was functioned as a fortress for guarding the northern outskirts of Georgia.
Shatili is a unique complex of the fortified dwellings and medieval fortresses made of stone and mortar. About 60 towers of the fortress are located close to each other to create fortification chain.
Village is inaccessible during the winter.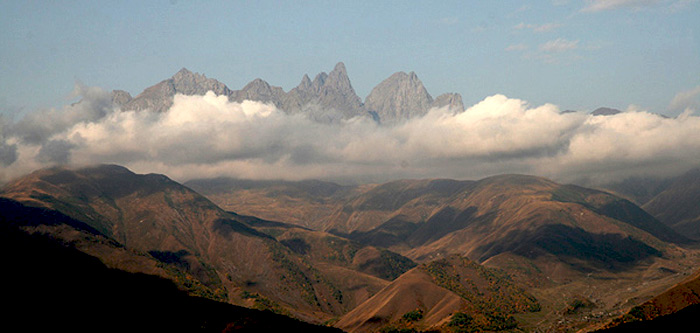 1-3 days tour to Shatili
I day
Our trip to Shatili starts in Tbilisi, capital of Georgia. The trip will take 6 hours with a lunch break and stop. We will see Mtskheta Cathedral, Jvari monastery. We will have a break at the beautiful Zhinvali lake and taste famous khinkali. You will enjoy a view of Aragvi river gorge and Datvijvari pass (2676m). From this point you will enjoy a splendid view of Barisakho rocks on South and Great Caucasus on the North.


From this point the Military Road winds down along the gorge of river Arguni passing wonderful landscapes. Suddenly a fascinating view of an ancient fortresses will appear. This is Shatili.
For one night we will stay in ancient fortress hostels or in the modern type apartment.
In both cases minimum of comfort, such as power and hot water are provided.
You will see how beautiful is Shatili on a moon light!

II day
During a second day of our trip we will rich the Mutso fortress. Mutso is located on the right bank of the Andakistskali river. It consists of approx. 30 medieval fortified dwellings arranged in vertical terraces, four towers and old ruins. Village is dated by the 6 th century.


In the past Mutso was inhabited, but now is almost completely abandoned more than a century ago. Today only one family left there. The head of the family is hospitable Kerchu, who owns the fortress shelter with his four children.
The next stop is a small Ardoti village that is in 3 km from Mutso. Here vehicle road ends.
You can walk from here on a short distances to see small historical places.
In Khevsureti one can accidentally stumble on stones with scratched mysterious signs. Signs are very old and brings us to BC ages. Sometimes you can find stones built into the castle walls.
The meaning and the purpose of signs is unknown.

III day. Again we will go through the Pass, but know in the morning. The views will be completely different due to morning light. We will stop for lunch at the river bank. The next stop is Zhinvali lake, where we can swim and relax after journey. We will visit Ananuri castle, XVII century monument. Full with positive emotions we are going back to civilization.



We hope that you enjoyed time spent with us and will continue exploring Georgia.
There are so many places to visit! Have you been in Gareji Monastery? No? Kazbegi?
Hey! Donít miss a chance, just make your choice and contact us!
Price for tours
depends on:
Number of visitors,

Number of days,

On Hotelís expenses,

Routeís difficulties,

transport type.
Contact us. Write please to Your Wishes and Requests!