Tusheti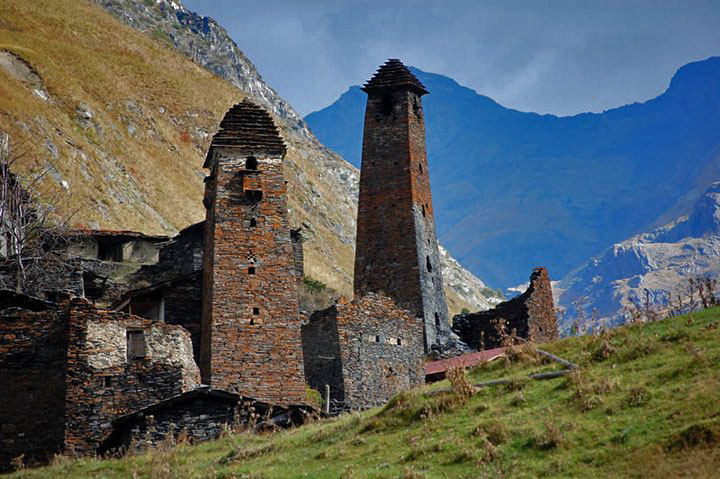 Geographi of Tusheti is very specific. On all sides surrounded by difficult passable high mountains and is located as in seclusion from the rest world. Even today, get in Tusheti is possible only by 4/Wheeling or by helicopter.
Tusheti is interesting for those who like a jeep transitions, hiking, swimming in mountain rivers, waterfalls, who are interested in etno-kultura, glad to meet with traditions and lifestyle of this hospitality local people.

I day.
Starting from Tbilisi, on the way we have: Fortress Ujarma (2nd century) and the Church of the 11th century Alaverdi. Both monument are quite important and should visit.
Next from here, a transport must be 4 /wheel. Our road goes through the fantastic nature. Through the deep canyon of the raging rivers, waterfalls, our road goes up, to huge mountains, to the pass Torgva. (2995 m). The coniferous forest remains far from the bottom. Panoramic views you must see yourself!
To reached to village Omalo, with stops for photos, the road takes 4 hours.
Overnight at the hotel or in tents. It is at our discretion.
2 day
From here are routes of different duration. Possible to continue the tour on the machines. Recommended time on jeep tour 2 - 3 days. For hiking tours 1 - 5 days. Possible and on horseback.
The main aspects of Tusheti is: Nature, old fortress-villages, ethnic culture, lifestyle.
Hiking trails go along mountain trails, crossing pine forests, meadows, rivers, where swimming is one of pleasure. In rocky areas can be seen mountain goats, antelopes.
In the villages we can stop at the hospitable hosts. They will treat us with local dishes: "khinkali" "Kotori." Cheese "gooda" is from here places!
Overnight at tent or at villages.
There is a hiking trail in Khevsureti. The route through the pass Atsunta (height 3450 m.) Takes 3-4 days. See link >>

3 δενό
Returning. At this time, a different time of the day, the lighting gives other colors.
Night at Tbilisi or: - tour to Kakheti